i'm over here losing my actual mind that internet sketch comedy site CollegeHumor is turning their brilliant faux gameshow Um, Actually into an, um, actual party game through the Kickstarter crowdfunding platform.
i was cruising around TikTok not two nights ago when i stumbled on a snippet of Game Changers, another CollegeHumor game show sketch concept that they seem to have taken a lot farther than the superior Um, Actually. Game Changers fell flat with me; the segment i watched had one of the CollegeHumor actors getting her hair shaved for money. i guess the concept of Game Changers is that it's the "dare" portion of any middle schooler's game of Truth or Dare?
i dropped a comment on the video: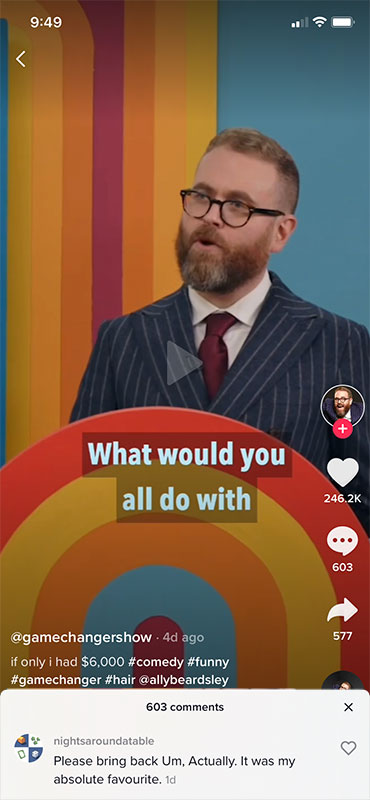 "Please bring back Um, Actually. It was my absolute favourite."
i made the comment not realizing that Um, Actually had actually never left us, and that since i was no longer working a 9 to 5 grind with watching lunchhtime CollegeHumor sketches as my only blessed escape, it was i who had forsaken Um, Actually.
And so this morning, the time of day when my phone likes to let me know it's been reading my mind (and my TikTok comments), i see this ad on Facebook: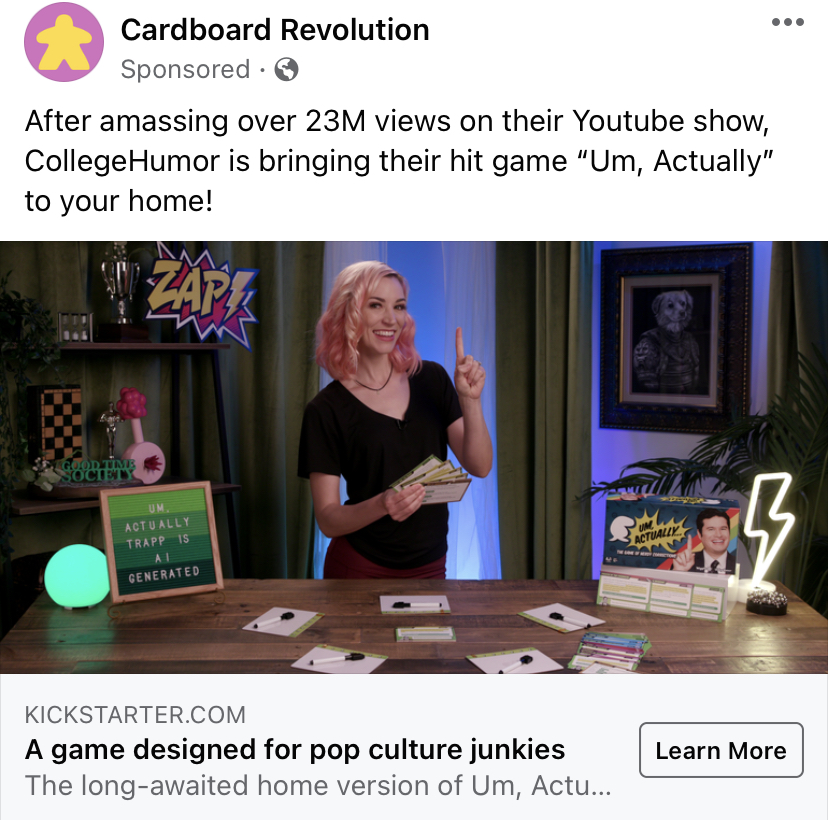 It's happening! It's really happening!!
For the uninitiated, the concept of Um, Actually is that the host reads a prompt on the card that contains some trivial, factual error, and contestants have to buzz in and say "Um, actually…?" and follow up with a correction to the statement. Here's the very first sketch that had me HOOKED:
So the whole idea is that you get to be an insufferable, pedantic nerd, and it's OKAY! It's PART OF THE GAME!  Arrrgh! How amazing is that???
And i love that the game itself is obnoxiously picky, in that answers must be proceeded with "Um, actually…" hearkening back to Jeopardy!'s insistence that "all answers must be stated in the form of a question." i'll never forget all those times when Alex Trebek had to let a contestant down by saying "Although you did answer correctly, here at Jeopardy!, we need your answer to be stated in the form of a question." Those were the early days. Later in the show's unending run, a contestant would buzz in and say "Genghis Khan?" and Trebek would just grunt "NO." And then another contestant would buzz in and say "Who is Genghis Khan?" with some genuine Um, Actually energy, and Alex would say "Correct!" and then chide the first player for not stating his answer in the form of a question. Good stuff, Trebek. Rest in peace, you absolute cocksnark!
This Post Will Lower My Net Worth
Now you have to understand: one of my scant revenue streams sees me getting paid for creating Kickstarter preview videos for board game publishers. That's not the case here. i have no skin in this game other than that i adore the concept. i haven't even checked out the campaign myself – i literally just rolled out of bed after seeing the news and was so excited that i stumbled over to my computer and typed up this post.
So let's go check out the Um, Actually campaign together, shall we? Let me know in the comments below what you think. And in the spirit of the game, all comments must begin with "Um, actually" or they will be deleted.