Building a video series about board games takes a lot of long, unpaid hours! When i involuntarily left my puzzle design job in 2017, i decided to make these videos while sending out applications for something new, just to keep myself busy and to keep to a schedule. Throughout my career as a game designer and puzzle crafter, i've become so specialized that opportunities are few and far between. Nights Around a Table is my attempt to create a job for myself that is suited to my unique creative skillset.
If you like what i'm doing and want to see me continue (and thrive!), please consider helping me out. i've compiled a list of things you can do to support Nights Around a Table, and most of them are FREE!

You can make either a one-time donation or an ongoing monthly contribution to the channel through Patreon. Monthly backers get awesome perks! The backer community is growing. We like to hang out and talk about board games on the NAaT Discord Server.

Twitch.tv is the website where we host our fun live shows and board game playthrus.
If you are an Amazon Prime subscriber, you get ONE FREE MONTHLY SUBSCRIPTION to a Twitch channel of your choice (a $5.00 value). Nights Around a Table receives half that amount, and Bezos inserts the rest into his moneygullet. Follow these instructions to find out how to subscribe.
If you don't subscribe to Prime, you can still buy a monthly Twitch subscription to Nights Around a Table the old fashioned way: with hot stinky cash! There are three subscription tiers available.
You can also cheer during our livestreams by buying Twitch Bits and sprinkling them around like i'm a board game-themed exotic dancer. One Bit equals one penny. Th… thank you.
Subscribe to Nights Around a Table on YouTube and click the bell!
When you're starting out, building a successful channel is all about impressing the YouTube robots. If you subscribe to a channel, and click the bell to get notifications when new videos are posted, you're teaching the robots that this channel is worth recommending to others!
Click here to go to the Nights Around a Table YouTube Channel!
Once you're there, here are the locations of the Subscribe button and the notification bell: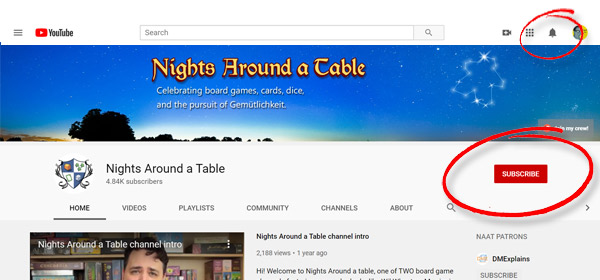 Like, Dislike, or Comment on a video!
To those YouTube robots, engagement is engagement. Clicking the thumbs-up button is just as good as clicking the thumbs-down button – to the robots, it just means people care enough about the content to respond to it. It's the same story if you leave a comment: that tells the robots that you care enough to say something, so they'll be more likely to recommend Nights Around a Table to others.
These are the places where you can engage with one of our videos: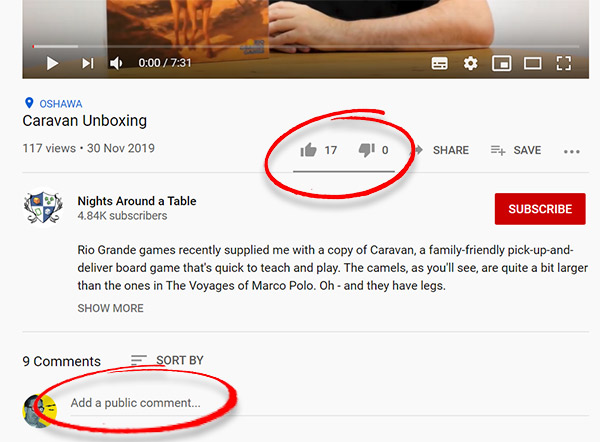 Follow us on various social media accounts!
We try to spread out across as many social media platforms as possible. Here's how to sync up with Nights Around a Table on the platform of your choice:
Buy literally anything on Amazon!
Another way you can help is buy buying something for yourself on Amazon, after clicking our affiliate link below. We'll get a small commission on anything you buy – even non-board game stuff!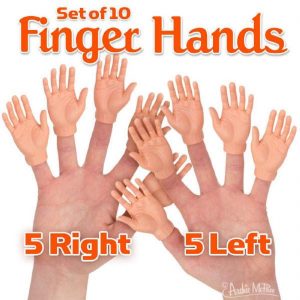 Start with this set of tiny hands finger puppet hands for your hands' fingers!
(As seen in How to Play Race for the Galaxy and How to Play Codenames!)
If you want to build your own studio to start your own YouTube video channel, check out my affiliate link-riddled post 5 Secrets of Nights Around a Table, where i list all of the equipment i use. Mmm! Pseudo-professional!
Thank you for all your support!
Did you do any of the things listed above? From the bottom of my heart, thank you so much for your support. It may sound trite or trivial, but every little click matters! Thanks for contributing to the success of this creative endeavour i've taken on. The more successful it is, the more fun and interesting stuff i can create for your enjoyment!