i wanted to share this productivity tip with you, because going fast through tedious tasks can be a real brain-saver.
This is how to reduce any website that has a search function to a single letter lookup in the Google Chrome web browser. For example, i search for board games a lot on BoardGameGeek.com, and when i do, i type "b [SPACE]" into the URL bar, instead of going to the website and typing the game name into their search field.
This funcionality used to be more up-front and accessible in Chrome, but they've buried it and made it a little hairy to access. Here's how you turn any searchable website into a search engine in Chrome:
1. Go to the searchable website you want to adad – in this example, i'll use BoardGameGeek.com.
2. Type something into the search field on the site, and click the magnifying glass button or press ENTER. i've chosen the search term "maracaibo."

3. You'll reach the site's search results page: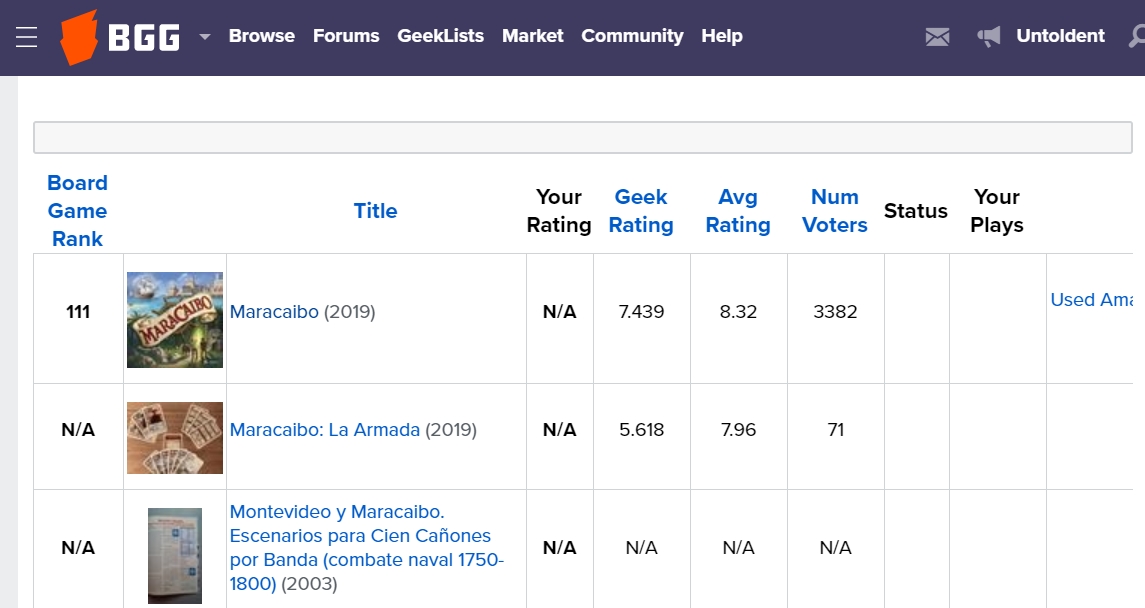 4. Select and copy the url at the top of the browser by pressing CTRL+C on Windows or CMD+C on a Mac. In this case, the search results page url looks like this:

https://boardgamegeek.com/geeksearch.php?action=search&objecttype=boardgame&q=maracaibo
4. Click the 3 vertical dots at the top right of the browser and select "Settings."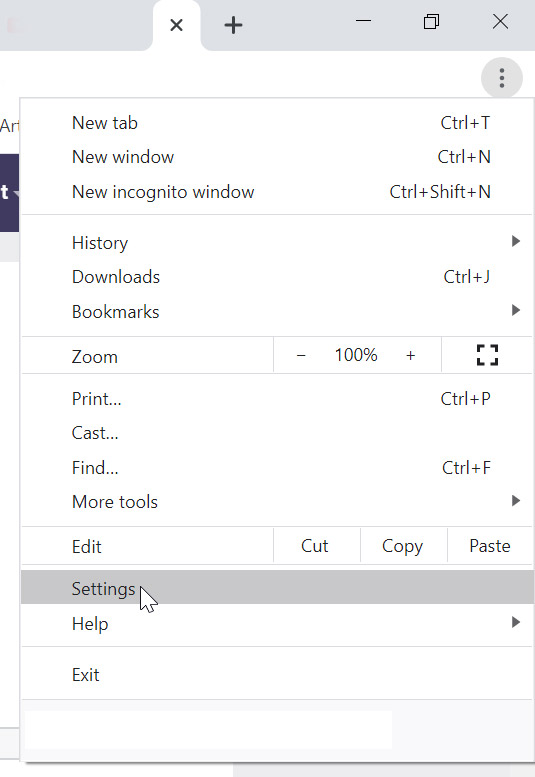 5. Select "Search engine" from the left sidebar.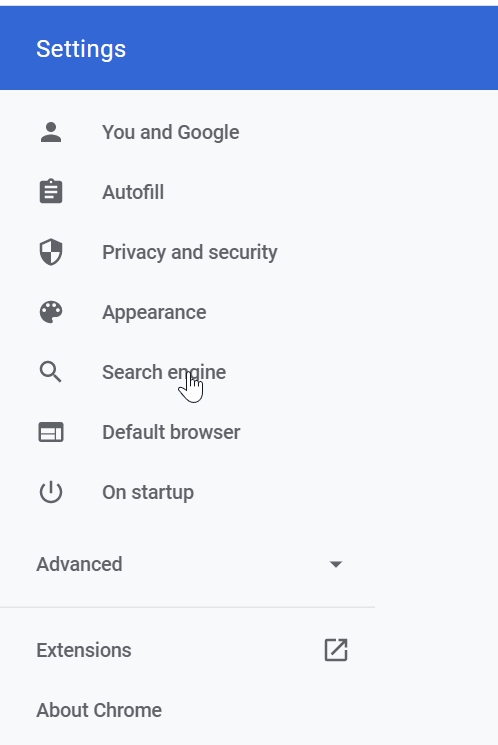 Click "Manage search engines"

Scroll down to "Other search engines" and click the "Add" button.

Type the name of the "search engine" in the first field. Then, type the shortcut letter in the second field. i use "b" for boardgamegeek.com.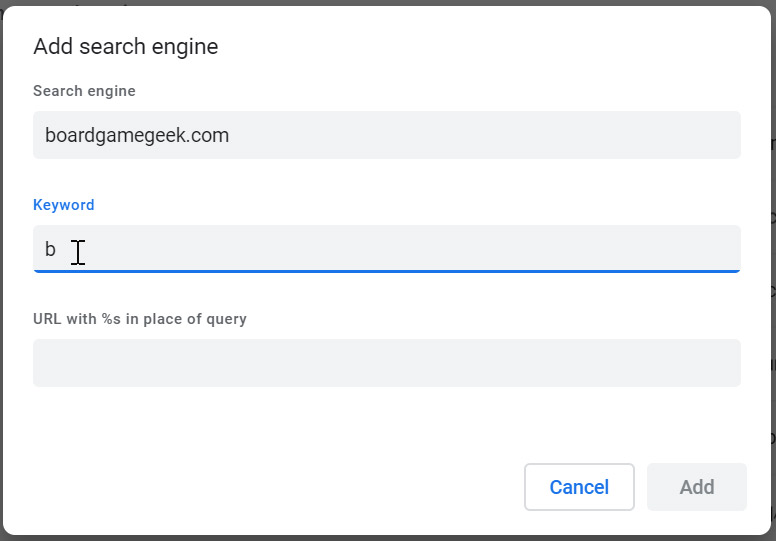 In the third field, press CTRL+V on Windwos or CMD+V on a Mac to paste the url you copied. Find the part of the url that contains your search term (in my case, "maracaibo") and replace it with %s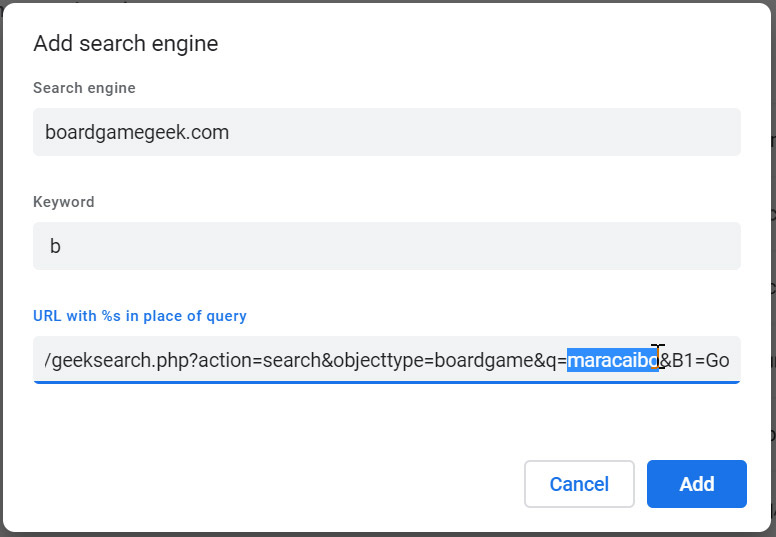 So in this example, you'd change it to:
https://boardgamegeek.com/geeksearch.php?action=search&objecttype=boardgame&q=%s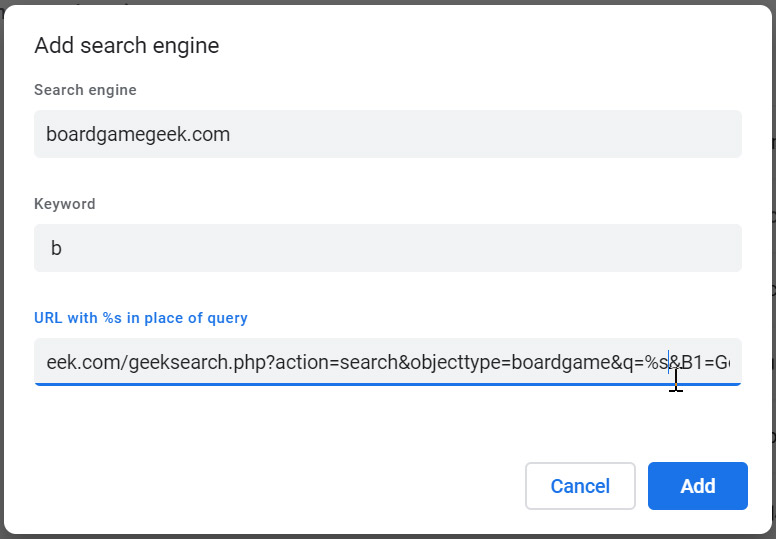 Click the Add button to commit the change.
Now, whenever you want to search something quickly on BoardGameGeek.com:
Click the url bar at the top of your Chrome browser

Type "b" (or whichever shortcut you chose) and SPACE. The URL changes to reflect that you're using that site as a search engine.
Type your search term (for example, "Patchwork") and press ENTER

You're immediately taken to the search results page on BoardGameGeek.com, which is populated with your search results!

i have a huge pile of frequently-searched websites mapped to a single letter, including
amazon.ca (a)
boardgamegeek.com (b)
dictionary.com (d)
Google image search (i)
thesaurus.com (t)
youtube.com (y)
wikipedia.org (w)
rhymezone.com (r)
It's a super-great, buried feature that i highly recommend to speed you up! Let me know in the comments below if this has helped you, or if you want to hit me back with a productivity tip of your own!